Jessica Simpson was mobbed by photographers as she and her hairdresser friend Ken Paves left together after having dinner at Madeos restaurant in West Hollywood, CA. on Saturday, November 1.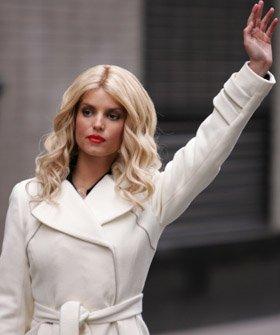 The "Dukes of Hazzard" star and her hairstylist best friend Ken Paves exited the restaurant, the photographers swarmed Jessica Simpson. Paves stepped in to protect Simpson when a photographer struck him in the face with a camera. An observer revealed that the injury was an accident.
The source revealed: "Everyone was pushing each other to get a picture of Jessica."
With blood running down his face, the two got into their vehicle, and Paves was taken to Cedars-Sinai Medical Center for stitches according to a source. No police charges have been filed.
Meanwhile, Jessica Simpson was the epitome of style as she wore a sleek origami pleated strapless dress in steel gray. She added attitude to her looks with giant glittery hoop earrings. Her golden blond hair, cascading down the shoulders, framed her face. She kept her makeup light with glossy lips.
On other news, Jessica's Oscar ambitions suffered a setback recently when her third film "Major Movie Star" failed to get a theatrical release in the US. It will now be released on DVD as "Private Valentine: Blonde & Dangerous", hitting stores on February 3, 2009.
Comments
comments