Romantic relations between Jessica Simpson and Tony Romo appear to be absolutely done and dusted, but according to insiders, the surprise break-up was largely a result of peer pressure from Romo's pals and Jess's love of adult beverages.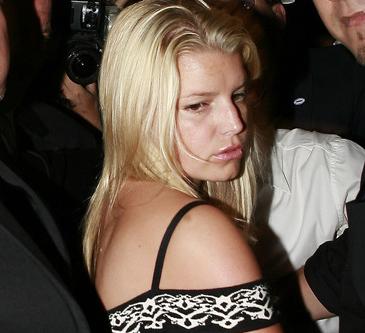 "Jessica would get really drunk and obnoxious, it was out of control. She would be sprawled everywhere with her head on his lap and the look on Tony's face said it all," an insider told Tarts. "He was so embarrassed in front of all the guys and his teammates were really harsh on him over it. Breaking up was a really hard decision for Tony to make."
A report also indicated that the Dallas Cowboy really did love the pop princess and "fought for her" with his skeptical friends, but in the end, it got to a point where it just didn't make sense for him to stay in the relationship.
But in Simpson's defense, a friend from her camp told Tarts that she doesn't drink too much, and that there were numerous issues going on between them before Romo said his goodbyes.
"She was devastated and it did come as a shock, however," added the source.
Speaking of shocks, Miss Simpson and her BFF/hair stylist Ken Paves were caught in the 6.6 earthquake that rocked Japan on Wednesday.
"We just had another earthquake and @kenpaves fell to the ground," Jessica tweeted. "We couldn't stop laughing. He flew out of his boots. SO funny!!"
Comments
comments