JK Rowling's new Harry Potter spin-off, which is a collection of short stories mentioned in the final book of the boy wizard series, goes on sale on Thursday with retailers expecting a rush of pre-Christmas buyers.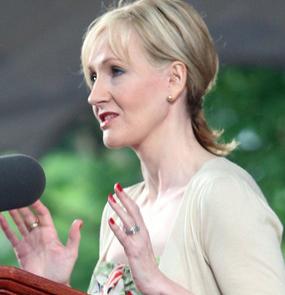 The Tales of Beedle the Bard is predicted to become an international best-seller, with a global print run of around 7.5 million copies.
But JK Rowling will not make any profit from sales of her new book because all profits are going to her charity for vulnerable children in Eastern Europe.
The book is all about five wizard fairy tales bequeathed by Albus Dumbledore, headmaster of Hogwarts, to Harry's friend Hermione Granger in Harry Potter and the Deathly Hallows. It helped provide clues to help the boy wizard defeat his great enemy, Lord Voldemort.
One of the fairy tales, The Tale Of The Three Brothers, is recounted in Deathy Hallows, but the other four are entirely new: The Fountain Of Fair Fortune; The Warlock's Hairy Heart; The Wizard And The Hopping Pot; and Babbitty Rabbitty And Her Cackling Stump.
JK Rowling originally planned to make only seven handwritten and hand-illustrated copies of the book, giving six to close friends and selling one at auction for £1.95 million, before deciding to give all her fans the chance to own a copy.
The online book shop Amazon, which bought the auction copy, is printing up to 100,000 collectors' editions costing £50.
All the money raised by the book's general release will go to The Children's High Level Group, which works to promote children's rights across Europe but Beedle the Bard may not be Rowling's final word on the world of Harry Potter. She has said she plans an encyclopedia on the series.
Comments
comments