Jennifer Lopez and Marc Anthony dine out amid the reports that their relationship are on the rocks.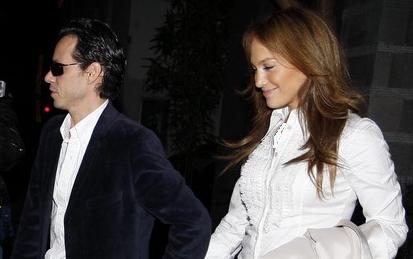 The celebrity couple had a very public dinner at Luau in Beverly Hills last night—following recent sightings of the two partying separately without wedding rings.
A source revealed of the couple's night date: "They snuggled together in a booth, feeding each other Wagyu Kobe meatballs and sharing the tamarind-glazed ribs."
And by the looks of things, the couple seemed very much in love. The source added: "They snuck in smooches throughout the night."
But along with their lovey-dovey dinner comes today's cover of Us Weekly, which claims that their marriage is at the "breaking point"…
Until last night, Us claims the couple hadn't been seen together since Oct. 23. Last week Jennifer hit the premiere of The Curious Case of Benjamin Button solo and sans ring, while Marc partied in Sin City without his ring right after Thanksgiving.
The mag also claims Marc is "very, very controlling," even asking J.Lo to cover up her enviable assets and keeping tabs on her phone calls. It also reports that Jen's BFF Leah Remini wants them to break up.
The representative of J.Lo earlier shot down rumors that Lopez and Anthony were having marital troubles, calling them "absolutely not true."
A source, which is close to Jennifer, revealed: "Don't believe everything you read. They're fine."