Jennifer Aniston was in a playful mood as she made a rare off-set appearance in New York.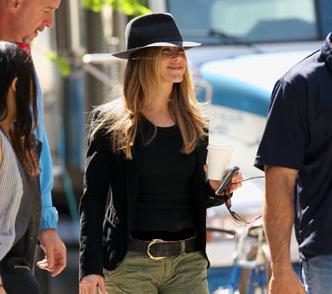 The actress has been keeping a low profile while in the city shooting new movie The Baster, but decided to brave the outside world on Tuesday.
Dressed in a unusual outfit of casual combats teamed with a smart black jacket and hat, Jen was all smiles as she strolled in sunshine, minders in tow.
She was also spotted wearing a shawl to cover herself up after filming a rock climbing scene in her new film The Baster on Monday (May 11) in New York City.
The 40-year-old actress recently had a kissing scene with co-star Jason Bateman. He said, "It felt … It was a good scene, I'll say that. It was a good scene."
Although Jason and Jen had been friends "for a long time," "It's nice to finally work together," he told People. "I think we just had one scene in The Break-Up. It's been a lot of fun."
Comments
comments