Joe Jonas doesn't seem to have learnt from pal Miley Cyrus' mistakes – and has been caught copying her controversial 'squinty eyed' look.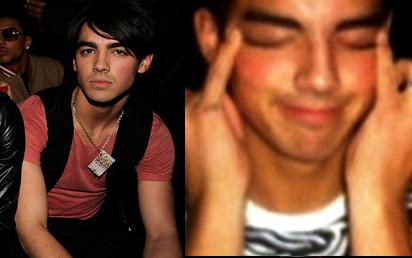 A candid photo of the Jonas bro pulling his eyes to the side has emerged online – but the question remains, will he be slapped with a $4 billion lawsuit like the Hannah Montana star was following her own politically incorrect pose.
Weeks after Miley Cyrus apologized for posing in a similar manner and denied that she is a racist, middle Jonas Brother Joe Jonas appears to be the gentleman in a photo pulling down his eyelids with his pinky fingers.
Jonas, who like the guy in the photo wears a purity ring, is an older brother of Miley's ex boyfriend Nick Jonas.
Joe is 19.
No word when the photo was taken or where it came from before surfacing on Gossip Teen.
In February Miley was branded racist after she was snapped alongside boyfriend Justin Gaston and several pals pulling her eyes to the side, as an Asian American friend looked on.
An Asian-American group demanded a public apology over the picture, whilst and one offended Asian woman went a step further and filed a lawsuit demanding the 16-year-old cough up $4,000 for each of the one million "Islanders."
Comments
comments