Jennifer Aniston, who described herself as a "homebody" during the time of her marriage to Brad Pitt, has seen to do some globetrotting with her current beau John Mayer.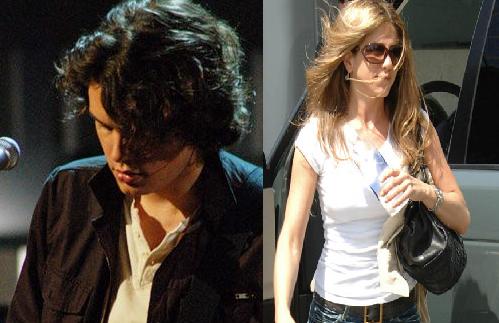 The "Friends" beauty was spotted tagging along with the "Your Body Is Wonderland" singer last week. She tagged along as he played shows in England, and there she was by his side again last night as he kick-started his US tour in Milwaukee, Wisconsin.
The celebrity couple, who got the Hottest New Couple of the Year So Far in the latest magazine poll, arrived in Wisconsin yesterday so John Mayer could perform at the annual Summerfest concert festival, which continues on through July 6.
A festival insider said, "They were really lovey-dovey before the show. They seemed really relaxed and didn't care that everyone was looking out of the corner of their eyes at them."
But no matter how comfortable they were together backstage, John refused to even acknowledge cat calls from the audience to "Bring Jen out!"
John Mayer's tour bus is currently heading south from Milwaukee to St. Louis, where the singer is set to perform tonight before moving on to Noblesville, Indiana, for the Fourth of July concert there.
Comments
comments