John Mayer and Jennifer Aniston shared a meal with Jennifer's parents, 75-year-old actor John Aniston and his wife and Jennifer's step mom Sherry Rooney, at Beverly Hills Hotel's posh Polo Lounge on Wednesday, November 19.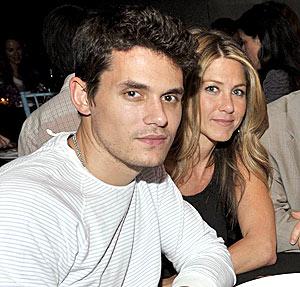 They were accompanied by another older couple.
An onlooker revealed: "Jen's dad seemed very impressed with John and the two got on real well."
The meal was spiced with a lot of PDA between Mayer and Aniston whose renewed relationship is marked by greater passion and forthrightness.
The couple sat together directly across the table from Jennifer's dad.
An eyewitness revealed: "They couldn't keep their hands off each other. Jen was constantly rubbing his hair and John was rubbing her back, then every so often they would steal a kiss. They both looked very happy and very much in love."
The celebrity couple started with a round of cocktails and then shared a salad before going on to a fish entrée. Jennifer Aniston was spotted feeding John Mayer vegetable off her fork.
Jennifer Aniston's mother was chattier than her father.
The eyewitness added: "John spent a lot of time talking about his music philosophies – why certain decades have better music. He discussed his experiences with Aretha Franklin and made a joke about Tom Hanks."
To begin with, John appeared nervous, "fidgeting and texting under the table," but later opened up when Jennifer Aniston left the table for a powder room break.
"How am I doing?" he asked, and then promptly added, "I am a wreck."
"Should we get our score cards out? Like on Dancing With the Stars?" Aniston's mother responded.
"Exactly. It feels like Dancing with the Stars," John replied:
The group left together through the front of the hotel.
Comments
comments