Johnny Depp, who admits it was love at first sight with Vanessa Paradis, will star in a feature-film version of the 1960s vampire soap opera "Dark Shadows", according to a report.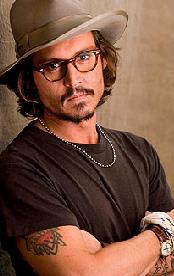 Warner Brothers is teaming with Depp's Infinitum-Nihil and Graham King's GK Films to develop the movie.
The "Pirates of Carribean" actor has revealed in interviews that he has always been obsessed with "Dark Shadows" and as a child, he had wanted to be Barnabas Collins, the vampire patriarch of the series. Jonathan Frid originated the role.
A rights deal just closed with the estate of Dan Curtis, the producer/director who created the soap, which aired weekdays on ABC from 1966 to 1971. Depp and King will produce with David Kennedy, who ran Dan Curtis Productions until Curtis died last year of a brain tumor. Infinitum-Nihil's Christi Dembrowski served as the point person on the deal.
Comments
comments