Johnny Depp, who sparked wedding plans, is set to be a guest star in a Nickelodeon cartoon.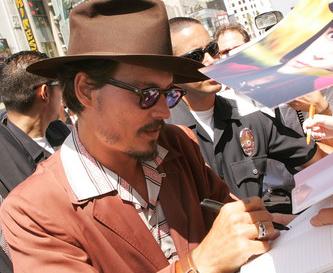 At the Television Critics Association press tour today, Nickelodeon's President, Cyma Zarghami, announced big plans for SpongeBob SquarePants, as the animated series celebrates its tenth anniversary. This will include a new special episode, "SpongeBob vs. The Big One", which will feature a very big guest star – Johnny Depp. Depp will play the king of surfing, Jack Kahuna Laguna, or JKL.
A clip from the episode was shown, in which SpongeBob and his friends watch in awe, as JKL walks from his small hut onto the beach – carrying the world's longest surfboard, which keeps going and going and going, as it comes out of the hut's door. The buff, blond JKL stoicly stands there as SpongeBob and the others heap words of praise on them – and then proceeds to surf a ridiculously huge wave, as dolphins majestically swim alongside him. Says JKL to the amazed SpongeBob, "That was your first lesson."
Also announced was a live cast reading of SpongeBob at the Sundance Film festival on January 18th. There will also be a primetime documentary special for the 10th anniversary, discussing the history of SpongeBob SquarePants and the show's impact on pop culture.
Comments
comments