Public Enemies' star Johnny Depp allegedly is Universal Pictures' first pick to play Frank Sinatra in Martin Scorsese's recently announced 'Sinatra' biopic.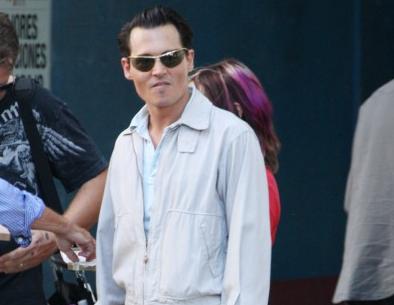 With director Martin Scorsese officially on board "Sinatra" biopic, casting rumor begins to fill the air as Johnny Depp is being linked to the lead role. Nikki Finke of Deadline Hollywood Daily brought up the possibility to attention, reporting that Universal Pictures have put the name of the "Sweeney Todd" actor to the top of their list for the Frank Sinatra part.
According to Finke, Depp is seriously considered because the studio are impressed by his performance as legendary bank robber John Dillinger in the upcoming "Public Enemies". Adding more to the possibility of Depp manning the role, Finke noted that the lead actor playing Sinatra won't be required to sing.
If the story is indeed true, this will be the first collaboration between Johnny Depp and Martin Scorsese. So far, Universal would neither confirm nor deny the report. Depp's representative, on the other hand, claimed that the report is untrue, as reported by Entertainment Weekly. In the meantime, it was reported that Scorsese himself already has an actor in mind for the film's lead, that is his longtime collaborator Leonardo DiCaprio.
"Sinatra" is a biopic based on the life of legendary entertainer Frank Sinatra. The movie, which script is provided by "Field of Dreams" writer/director Phil Alden Robinson, will feature Sinatra's own recordings. Universal Pictures and Mandalay Pictures have been quietly developing the project for two years before finally securing the life and music rights from Frank Sinatra Enterprises.
Comments
comments