Johnny Depp has blamed over-zealous fans for turning him into a housebound recluse.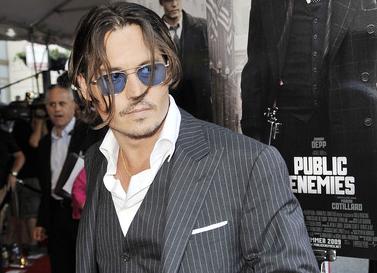 The actor famously shuns the limelight and deliberately avoids red carpet events and film premieres.
He admits he prefers to stay at home in a "dark room" – and insists he struggles to deal with the attention of fans when he is mobbed wherever he goes.
Depp said: "You don't ever get used to that kind of thing. That's why I hardly ever leave my house. I don't go anywhere. I understand what it's about but there's only so much of that sort of thing a human being can deal with. I can't think of myself in terms of celebrity. It's just too weird. If the choice is between being gawked at and sitting in a chair in a dark room, I prefer the dark room."
Meanwhile, he accidentally bought a Caribbean island.
The 'Public Enemies' actor – who has two children, 10-year-old Lily-Rose and Jack, seven, with girlfriend Vanessa Paradis – splashed out on the 45-acre tropical paradise after discovering it by chance on a family holiday.
He said: "Like everything else in my life, it wasn't planned, it just kind of happened. After I had done the first 'Pirates' movie I went on vacation to escape with my kiddies and my girl and someone said there was an island down the road for sale. I looked at it, I walked on it and I was done. So I immediately called my business manager and said 'Please!' And that was it."
The 46-year-old star loves spending time on the "perfect" island because it allows him and his family to hide away from the pressures of living in the public eye.
He explained: "It came at the perfect moment. The island provides me with somewhere I can go where no one is looking at me or pointing a camera or a finger at me. When we're there we do absolutely nothing. My kiddies don't have any toys there and they build little houses out of shells."
Comments
comments