Michael Jackson often discussed his death, once saying that he feared he would 'end up' like Elvis Presley, his former wife and Elvis' daughter Lisa Marie wrote in her MySpace blog Friday.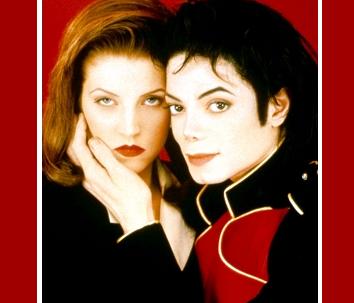 "He Knew … Years ago Michael and I were having a deep conversation about life in general … I can't recall the exact subject matter but he may have been questioning me about the circumstances of my Fathers Death," Presley wrote.
"At some point he paused, he stared at me very intensely and he stated with an almost calm certainty, 'I am afraid that I am going to end up like him, the way he did'."
Presley said that 14 years later "I am sitting here watching on the news an ambulance leaves the driveway of his home, the big gates, the crowds outside the gates, the coverage, the crowds outside the hospital, the Cause of death and what may have led up to it and the memory of this conversation hit me, as did the unstoppable tears."
"A predicted ending by him, by loved ones and by me, but what I didn't predict was how much it was going to hurt when it finally happened."
On August 16, 1977, Elvis Presley collapsed in the bathroom of his Graceland mansion in Memphis, Tennessee. He was 42. His death was declared to be caused by an irregular heartbeat, but the post-mortem report was sealed amid allegations that the real cause was prescription drug abuse.
Jackson died Thursday after collapsing from a cardiac arrest at his home in Los Angeles. He was 50. The Los Angeles County coroner on Friday ruled out any indication of foul play and said the final autopsy results would likely be released after several weeks.
Jackson died after being given 'a heavy dose of morphine,' according to celebrity website tmz. Family members were alarmed at his state and had planned to put him in a rehab facility for his addiction to morphine and prescription drugs, according to the website, which first reported his death.
Jackson and Presley were married in 1994, a union that lasted two years and was the subject of much speculation.
"Our relationship was not 'a sham' as is being reported in the press. It was an unusual relationship yes, where two unusual people who did not live or know a 'Normal life' found a connection, perhaps with some suspect timing on his part. Nonetheless, I do believe he loved me as much as he could love anyone and I loved him very much."
"I wanted to 'save him.' I wanted to save him from the inevitable which is what has just happened,' she wrote, adding that she became 'very ill and emotionally/ spiritually exhausted,' in her efforts to rescue him 'from certain self-destructive' behaviors."
"I desperately hope that he can be relieved from his pain, pressure and turmoil now."
"The World is in shock but somehow he knew exactly how his fate would be played out some day more than anyone else knew, and he was right."
The King of Pop's life and death had spooky similarities to King of Rock 'n' Roll Elvis.
Both died suddenly after living as virtual recluses.
The Thriller singer, who was 50, died from a heart attack. Elvis collapsed at 42.
The official cause of his death was a heart attack.
The overweight icon was addicted to junk food and had a cocktail of drugs in his final months.
Jacko, who started singing professionally at 11, sold 750million albums. In the UK he sold 11million singles and had seven No1s. As a solo artist he was second only to Elvis in sales.
He splashed cash on fantasy mansion Neverland in California.
Elvis sold more than one billion albums and had 20 UK No1s. He poured money into his Memphis estate Graceland.
Hours after writing her blog, Lisa Marie, who became Jacko's first wife in 1994 but divorced him in 1996, said: "This is such a massive loss on so many levels – words fail me."
Comments
comments