Looking sharp in a pinstriped Ralph Lauren suit, Johnny Depp works the crowd at the Chicago premiere of Public Enemies on Thursday.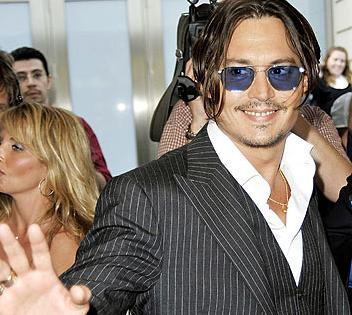 The actor plays famed 1930s gangster John Dillinger in the film, which hits theaters July 1.
Meanwhile, Johnny Depp has named a beach after Heath Ledger.
The actor owns a private island – called View the profile for Johnny DeppLittle Hall's Pond Cay – in the Bahamas and has paid tribute to the late Hollywood star by naming a stretch of sand Heath's Place. The "Dark Knight" actor died aged just 28 of an accidental prescription drugs overdose in January 2008.
Depp was a close friend of Ledger's and stepped in to help finish his final movie 'The Imaginarium of Doctor Parnassus', after Ledger died part-way through filming.
Depp has also named a beach on the 45-acre idyllic island after his partner Vanessa Paradis and their two children – 10-year-old daughter Lily-Rose and son Jack, seven.
The 46-year-old star recently revealed he escapes to the Bahamas to feed sharks when the pressures of fame are getting too much.
Depp said: "Whenever I was getting frustrated about being 'novelty boy' and making movies, I told myself, 'Calm down.' I can come down here and disappear. I spent the Christmas season here with Vanessa and the kids. You can feed hot dogs to the nurse sharks in the Exumas (the Bahamas Out Islands) – but it's best to not swim when doing it!"
Comments
comments