Johnny Depp, who previously reported to bought an engagement ring for partner Vanessa Paradis, "poisoned himself" with alcohol to cope with fame.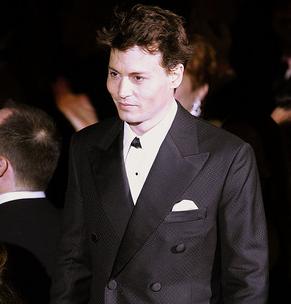 The "Pirates of Carribean" actor has revealed he partied so hard in the 90s to try and deal with his meteoric ascent to superstardom.
Johnny Depp, who was engaged to hard-partying model Kate Moss and was friends with wild Oasis rockers Liam and Noel Gallagher during the decade, is quoted as saying: "I never wanted to be the guy people looked at. I felt I could only be myself when I was alone, that I turned into some kind of novelty. The only way I could get through that time was to drink."
He continued: "I poisoned myself with alcohol for years but I've never been into drugs in the way it was sometimes made out."
Despite a string of critically-acclaimed film performances and three Academy Award nominations, Depp admits he is still insecure about his acting abilities.
He said: "I don't think of myself as being a celebrity, it's too mortifying. I have a hard time watching myself on screen and it's getting worse. I can't tell whether my work is good or not."
But one thing constantly getting better in his life is his relationship with French star Vanessa Paradis – the mother of his two children Lily-Rose and Jack.
The 45-year-old actor added: "Meeting Vanessa gave me proper perspective and understanding. It wasn't until then that things started to get real for me."
Comments
comments