Brad Pitt's co-star was upset to find out she was playing his mum.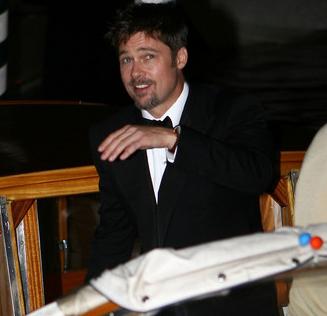 Taraji P. Henson says landing as role opposite the heart throb was a dream come true, but was dismayed to learn she would be starring as his parent in the film "The Curious Case Of Benjamin Button."
She revealed: "My lesson is, be very specific in what you ask for. I said I wanted work with Brad Pitt. God, I found out, has a wicked sense of humor, 'Oh, you want to work with Brad Pitt? Play his momma.' "
The 38-year-old actress also spoke of her embarrassment the first time she met her co-star in the movie, which features 45-year-old Brad as a man who ages backwards, because she looked so different.
She added: "I did see him in the make-up trailer. We had to de-robe at some point. And when he saw me come out of the thing, because the first time we worked together was when Benjamin Button comes back to the house for the first time – after he had gone off to become a man – and so the first time Brad sees me, I'm in a fat suit and a wrinkled face. I'm like, 'Great. The plot thickens.' And so the first time he saw me out of the suit, he was like, 'Wow, my momma's hot!' "
Meanwhile, Brad Pitt has saved Christmas for 150 American families as he spent more than £3 million rebuilding 150 New Orleans homes destroyed by Hurricane Katrina – just in time for the festive season.
The actor funded 150 eco-houses as part of the Make It Right program. He plans to build more in the New Year.
Brad revealed: "It's not just housing, it's homes. It's where people created families, took their kids to school, where those kids took their first steps and played with their friends. These people don't want handouts, but they've suffered a great injustice."
Comments
comments