Award-winning director Tim Burton has been told to butcher his own film, in which Johnny Depp plays the Demon Barber of Fleet Street, Sweeney Todd. The film appeared to have grisly footage of blood splashing across the set as the actor slits the throats of his customers based on Stephen Sondheim's stage musical.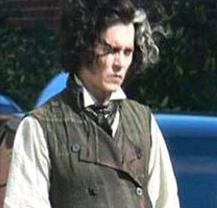 In its present form the film would merit an 18 rating, but Warner Brothers would prefer it to have a 15. In the film, Todd Sweeney's victims sat in a mechanical chair, their throats are cut and as Johnny Depp flicks a switch, the floor opens and they slide down a chute into the lair of Todd's mistress, Mrs. Lovett (the pie maker) played by Helena Bonham Carter.
A source revealed, "Tim's not happy that the studio is asking for so many cuts to the cutting, as it were. The thing is, the studio really likes the film and they want to make it accessible to as big an audience as possible – which means stemming the blood flow. But that's a bit difficult for a story involving a guy who gets high slitting throats."
The movie includes Alan Rickman, Timothy Spall, Sacha Baron Cohen, Laura Michelle Kelly and Peter Bowles in the cast. It is expected to hit the theaters in the UK on January 25.
Comments
comments