Katie Holmes and her daughter Suri visited Paris on a shopping trip on August 23. Her husband Tom Cruise stayed back in Berlin for "Valkyrie" film.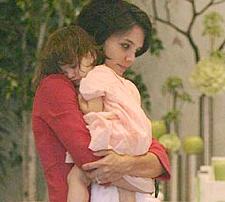 The actress hurt herself during the sojourn when she twisted her ankle following a misstep and fell down with Suri in her arms. She only got a skinned knee since her bodyguard quickly reacted and averted a more serious mishap. Baby Suri was unhurt and we think blissfully unaware of what transpired.
Katie had to make a stop at her hotel to mend her knee. Later the mother and daughter left Paris by private jet at Le Bourget Airport, France.