Instead of celebrating their MTV Movie Awards triumph with their "Twilight" co-stars, Robert Pattinson and Kristen Stewart prefer having dinner just for two.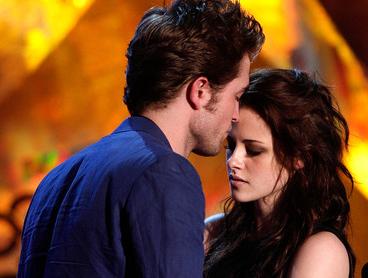 Winning big at 2009 MTV Movie Awards on Sunday evening, May 31, Robert Pattinson and Kristen Stewart had a celebration just for them later that night. The "Twilight" duo was said dining at a new hot spot in Hollywood called Cecconi's.
after the awards show, Rob and Kristen headed to Cecconi's for a bite to eat, and the duo left the trendy eatery around 11pm, and they were followed by a police escort to The Charlie Hotel in West Hollywood (Charlie Chaplin's old house). The lovebirds booked themselves a private chateau, and we didn't see them again until noon, when they emerged from their bungalow, looking like they'd both just rolled out of bed!
A photographer on the scene revealed: "Rob was preoccupied with getting all of his stuff in the car and Kristen was hiding behind her sunglasses, looking a little tired, but waiting to say goodbye. Right before Rob got in the SUV, the couple stood together behind the car door and I'm pretty sure there was a brief kiss!"
Kristen's actor boyfriend, Michael Angarano, was nowhere to be seen inside the venue, adding fuel to the rumors that Kristen and Robert are embarking on a love relationship. After enjoying dinner, Robert and Kristen then slipped out the back door of the restaurant at around 11 P.M. and reportedly even had a police escort. After that, the co-stars headed to their West Hollywood hotel.
And on Monday, Robert Pattinson was seen leaving Los Angeles to an unknown direction. He was photographed at the airport and was seen wearing jeans, sunglasses and hooded sweatshirt. Kristen Stewart's whereabouts was not known though.
At 2009 MTV Movie Awards taking place at the Gibson Amphitheatre in Universal City, Calif., Robert and Kristen's hit vampire movie "Twilight" was a big winner, taking home Best Movie prize just to name one. The flick, additionally, won Best Fight for Robert and Cam Gigandet, Best Kiss for Robert and Kristen, Best Female Performance for Kristen, and Breakthrough Performance Male for Robert.
Meanwhile, Rob and Kristen def seem to be teasing their fans with this are-they-or-aren't-they relationship, but a report announce to Twilight fans – this relationship is for real!