It is uncertain if there is a romance between Lindsay Lohan and Bon Jovi guitarist Richie Sambora. But there is a report that claims that Bon Jovi has told the veteran rocker to stay away from Lindsay Lohan.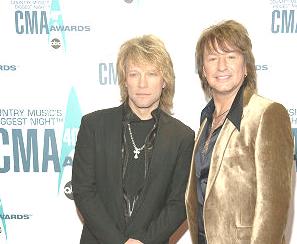 A report indicated that Bon Jovi is fed up with negative publicity generated by off-the-rails guitarist Richie Sambora, issued this dead-serious edict: If you value your job, hands off Lindsay Lohan.
The catchy statement flared after Richie Sambora dumped his wife Heather for Denise and began boozing big-time. When he checked into rehab at Utah's Cirque Lodge while Lindsay Lohan was still in residence, Bon Jovi sniffed danger ahead.
The source revealed, "He flatly warned Richie to steer a clear berth away from Lindsay – and not give anyone anything to talk about. Jon is just so sick of the negative attention Richie's brought on himself and the band – and knows that he's still not in a good place emotionally."
Richie Sambora, reportedly "a bit offended" by the warning, heeded it nonetheless because he knew his job of 24 years was literally "hanging in the balance!"