While Kate Gosselin has been taking the kids camping, Jon Gosselin has been having his own version of sleepovers.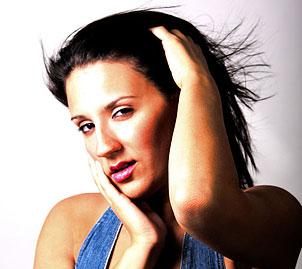 Jon's new nighttime pal is a woman he hired to babysit his kids, a report has learned exclusively!
Providing more drama off screen than in front of it, Jon spent the night with Stephanie Santoro, 23, a cocktail waitress, single mom and aspiring model whose online resume reveals she's willing to pose nude!
And while Stephanie has told people Jon hired her to babysit the kids, there are some of the details of their recent sleepover, including photos of the most recent night Jon and his new pal spent at his house.
Jon and Stephanie, who works part-time at Legends, Jon's favorite night spot in Reading, Pa., spent Saturday night there, with Stephanie sitting at his table most of the time.
They left together at a little before 3 a.m., an eyewitness revealed. (The club closed at 2 a.m. but they stayed inside.) They drove together in Jon's car back to the family home in Wernersville where Stephanie spent the night in Jon's apartment over the garage.
Hmm…not exactly where you would expect the babysitter to sleep!
Stephanie stuck her head out at approximately 7:15 a.m. Sunday, wearing the same outfit as the night before. Jon called her back in and soon they left in separate cars.
Jon, meanwhile, has gone dating-crazy since leaving his marriage. He has dated Hailey Glassman, 22, and Kate Major, 26. He has told both women he is still dating them.
Stephanie, meanwhile, wouldn't confirm her romantic liaison with Jon, despite being told of photographic proof.
And, in fact, a report has confirmed that she had been babysitting Jon's kids before their recent night out together!
She's even brought her 2-year-old child to the Gosselin residence, before the sleepover of course!
Comments
comments