Jonas Brothers' clothing line for tween girls is dubbed "Jonas" and will go on sale for back-to-school shopping.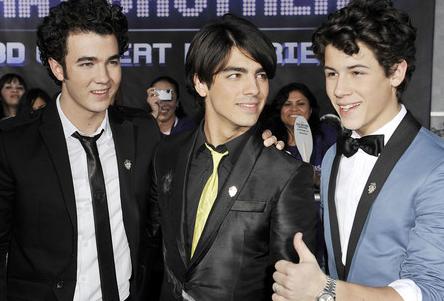 Popular teen band Jonas Brothers apparently are not willing to slow down as they have just announced plan to launch a clothing line aimed for tween girls. The line is called "Jonas" and its fashion collections are made based on the outfits worn by Kevin Jonas, Joe Jonas, and Nick Jonas on their upcoming Disney Channel series "J.O.N.A.S!", which is slated for May airing.
"Jonas" clothing line will be launched through Disney Consumer Products. It will be made available for purchase at retailers such as Wal-Mart, Kmart, Sears and J.C. Penney in time for back-to-school shopping and will retail from $9.99 to $24.99.
Woven tops, t-shirts, polo shirts with ruffle accents, plaid belted shorts, leggings and jeans are among the items of "Jonas" fashion line. The line, moreover, will include an argyle sweater vest with the logo of the brothers' fictional high school, Horace Mantis Academy. "Also, as an added element, within each of the retailers we are offering up differentiation, so that each store has exclusive product on their floors," Pamela Lifford, executive vice president of global fashion at Disney Consumer Products, has confirmed.
Greater than that, 200 Disney Stores across the nation will carry a separate collection of Jonas Brothers t-shirts, which will have graphics of Kevin, Joe, and Nick on them. Disney, in the meantime, has been planning major in-store promotions for the launch season this summer.