The Jonas Brothers recently sat down with AOL Moviefone Unscripted where they revealed their more, shall we say, relaxed side, for fans.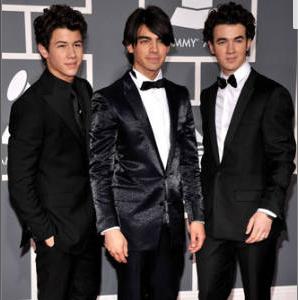 Kevin, Nick and Joe Jonas asked each other questions from fans, covering every topic from who they'd love to tour with, to what songs they love to sing in the shower.
Kevin said, while attempting to cover the song: "A big one for us that we sing all the time is…Rick Astley's "Never Gonna Give You Up," have you ever seen him, by the way? His voice does not match his body!"
The brother also admitted they'd love to win a Grammy and take on a world tour with none other than the man himself, Prince!
Kevin revealed: "I think to perform with Prince would be incredible. I think that would be one of the best things of all time."
The guys have a new movie coming out, The Jonas Brothers 3D Experience, and they say they hope fans will really get a kick out of some of the effects.
Nick revealed: "I really hope the fans take away a family aspect of this whole thing. For all of us, we really wanted to really make this interactive with the fans and make them feel like they were right there on stage with us."
Meanwhile, Jonas Brothers are set to perform at Kids' Choice Awards. They are set to perform at the event in Los Angeles March 28 and will again compete in the Favorite Music Group category. They'll also participate in a contest called Nickelodeon Kids' Choice Jonas Jam Sweepstakes.
"Our fans are the most important thing to us," Nick Jonas says, noting that of all the awards shows, Kids' Choice is "all about fun."
And about getting slimed. After bagging an award last year, the band came close – kinda – to experiencing the show's highest honor. "We were almost slimed just by getting hugged by [last year's host] Jack Black," Kevin Jonas says. "Maybe it's our year. We'll have to see."
Comments
comments