Jonas Brothers are up to their ears in reporters. Journalists aren't the only ones after the band though – everyone is name-dropping them, from the Obama family, who talked up the Brothers in their exclusive Access Hollywood interview, to Coldplay.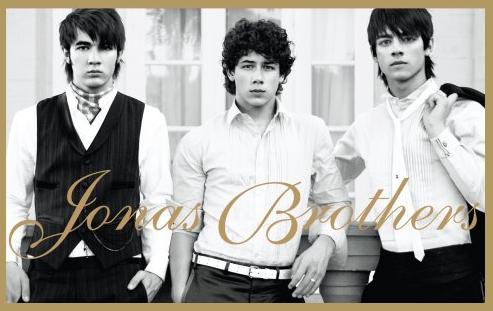 Joe Jonas revealed: "Last night, at their concert, Coldplay went up and introduced themselves [to the crowd]. They said, 'Hi, we're the Jonas Brothers' older brothers,' Just the fact they knew who we were — we're huge Coldplay fans so it's just so cool."
The band of brothers is making the most of its moment in the sun. Their latest star vehicle, Disney Channel original movie "Camp Rock," scored 8.9 million viewers in its June 20 debut, and the group is currently on their U.S. "Burning Up" tour to promote their upcoming third album, "A Little Bit Longer."
Despite all the hard work, they recently found time to take a vacation.
Nick Jonas revealed: "After the Disney Channel Games, we took a [week's] vacation down to the Bahamas. It was unbelievable, we played golf everyday."
The band stayed at the 10-room Bridge Suite at the Atlantis Hotel, where there was plenty of space to accommodate their entourage.
Nick Jonas added: "Our band, those are our best friends and we bring them out on the road."
But life on the road isn't just fun, games and interviews. They've also been working on their charity, the Jonas Brothers Change for the Children Foundation.
Nick, who was the youngest Jonas brother, also revealed: "Our main focus is kids with diabetes. Because I am a diabetic, that really has become a major thing for all of us as a family and as a band. [Kids] come up and say that we're an encouragement just by singing a song – [it] makes you think, well if I just sing a song, what I can do if I really spend time to focus on this?"
Joe Jonas said: "So many times kids come to the meet-and-greets and they have diabetes and they'll say to Nick, they finally feel like they're not the only ones out there. It's really cool to see that he can be such a leader for these kids."
With support like that, it's easy to see why there seems to be no sibling rivalry among the brothers Jonas.
Nick Jonas, who notes that if the things get tense on the bus, also said: "We're each other's best friends."
Kevin Jonas also revealed: "We leave it on the course."
Of course, there are a few things the young heartthrobs don't have much time for – like dating.
Nick revealed: "[We're] single guys."
The younger brothers are also waiting for an opportunity to get their driver's licenses.
Joe Jonas joked: "I have to do the driving test so maybe that can be an exclusive for you guys. You can come with me [to] get my driver test."
Joe and Nick are planning on getting their driver's licenses in September, with the elder brother looking to buy a Corvette. As for Nick's pick?
He added: "It's a Mustang GT 68. It's beautiful."
Comments
comments