The Jonas Brothers sat backstage recently at the El Rey Theater here, politely answering questions from a small cluster of reporters about their new CD. Publicists conducted SWAT-team surveillance.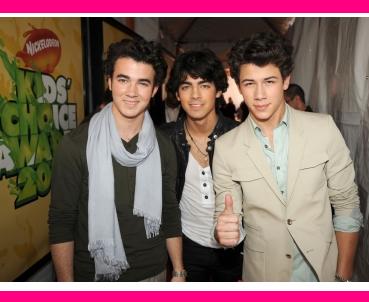 In the end nobody had the temerity — or the opportunity, since the interview session was cut short — to ask the tough question: Are the Jonas Brothers fizzling as a full-blown Walt Disney Company franchise?
It's a notion that Disney, the world's largest media company, thinks is ludicrous. "Hot as a pistol" is how Abbey Konowitch, general manager of Hollywood Records, the Disney-owned label, describes them.
Mr. Konowitch noted that the pop band's summer tour, a three-continent extravaganza built around the brothers' fourth studio album, "Lines, Vines and Trying Times," sold over 800,000 tickets in its first weekend, no small feat in a dismal economy. The new CD, inspired in part by the music of Neil Diamond, arrives in stores on June 16 amid a flood of publicity, including a Rolling Stone cover and a free concert in Central Park.
The Jonas Brothers are trying to expand beyond the Disney footprint and shouldn't be evaluated as a company franchise, said Johnny Wright, the group's co-manager. "We consult with Disney, but Disney doesn't tell us what to do," he said. The band's outside efforts include a line of branded energy drinks and starring roles in "Walter the Farting Dog," a movie for 20th Century Fox based on the best-selling children's book. (The trio had cameo roles of a sort in "Night at the Museum: Battle of the Smithsonian," which was the No. 1 movie at the box office over the weekend.)
"People are wrong when they say the bubble has burst," Mr. Wright continued. "It's just changing. We are focused on longevity and transitioning to a slightly older audience. When you do that, you risk losing some of your core fan base."
Still, Disney is counting on the cherubic musicians — Kevin, 21, Joe, 19, and Nick, 16 — to be more than just pop stars. The company's profit engines are creative franchises like "Hannah Montana" that spawn merchandising, movie and theme park spin-offs, and Disney has been putting considerable muscle into broadening the Jonases' beyond music.
So far results have been mixed.
Their debut film, "The Jonas Brothers: The 3D Concert Experience," was a dud, selling just $19.2 million in tickets at North American theaters in February. Disney had hoped that the movie would generate sales of about $40 million, according to a senior studio executive.
Mr. Konowitch said expectations for "The 3D Concert Experience" were unfairly high, noting that the band had just come off a lengthy tour that enabled most fans to see the trio in person. Mr. Wright said, "It irks me when people say the movie was a flop. If $19 million is a flop, I'll take it."
Mr. Konowitch also doused some cold water on Miley Cyrus's drawing power, saying that her concert movie, "Hannah Montana/Miley Cyrus: Best of Both Worlds," became a phenomenon that sold $65.3 million in 2008 partly because the Jonas Brothers appeared in it as well. Ms. Cyrus did not appear in the Jonas movie.
Television is also proving a bit bumpy for them. "Jonas," a new Disney Channel comedy that stars the brothers, had its debut on May 2 to an audience of 2.4 million kids ages 6 to 14, the target demographic, according to Nielsen Media Research.
That was enough to put the show at No. 1 — beating tough counterprogramming on Nickelodeon — but it was also Disney Channel's second-lowest live-action premiere in nearly four years. The target audience sunk sharply in its second week, but the show rebounded. The ratings performance is surprising given that "Camp Rock," the Disney Channel musical starring the brothers, was the No. 1 cable telecast for 2008.
Does the band feel pressure to have a big summer?
"We're all about taking those gradual steps," Nick Jonas said. His brother Kevin said, "We definitely have no expectations."
Lucy Schiller, 8, has been a follower of the Jonas Brothers since she first heard their hit "Year 3000" two years ago. She was one of 600 invited fans at the El Rey Theater, where the band was filming a six-song concert video that will appear exclusively on Walmart.com starting June 9.
"I'm downloading the new songs off iTunes the second they come out," she said. But this third grader never made it to the band's movie and still hasn't seen the Disney Channel series. "My friends aren't really talking about the show," she said. "I like them as singers."
A sold-out tour and strong response to the new album will almost certainly bolster interest in the sitcom. And perhaps the show's slow start is just a case of growing pains. "I think it takes time for music stars to be looked at as television stars," Mr. Konowitch said.
Mr. Wright, whose experience with boy bands includes managing 'N Sync, said that the Jonas Brothers may no longer be the best fit with Disney Channel's young audience. "They agreed to do the show two years ago, but it was delayed for various reasons," he said. "They're in a different place now."
In a statement Disney Channel said it was "pleased with the early ratings" for the show, noting that it has reached nearly 10 million total viewers over its first six telecasts. Jonas Brothers fans, the company added, have given DisneyChannel.com its best results for 2009.
"The show is a great learning process," Joe Jonas said. "Acting is something I want to get into a lot more."
Disney Channel has said it hoped the show would open a beachhead on Saturday nights, long dominated by Nickelodeon. If "Jonas" can dent ratings for "iCarly," the Nickelodeon show opposite it that is rapidly becoming a phenomenon among kids, the brothers' sitcom will be considered a big success internally.
Even so, if the Jonas Brothers are truly going to cross over, they need to do it with a punishing speed. Children 6 to 14 — the so-called tween market — have always been fickle, and allegiances come and go faster than ever. In industry parlance the band needs to strike before its core fans — young girls — "age out" of the experience.
The band's last album, "Little Bit Longer," was released in August and has sold 1.52 million copies, according to Nielsen SoundScan. Sales of their 2007 album, "Jonas Brothers," have reached 1.82 million. Worldwide, Jonas Brothers albums have sold 8.1 million CDs, according to Disney.
"This album is a big step for us as artists, musicians and songwriters," Nick Jonas said. "We're pouring it out of our hearts."
Comments
comments