The Jonas Brothers, who were famously dropped by Columbia in 2007 after their debut "It's About Time", sold just 65,000 copies are thrilled with their Grammy nomination.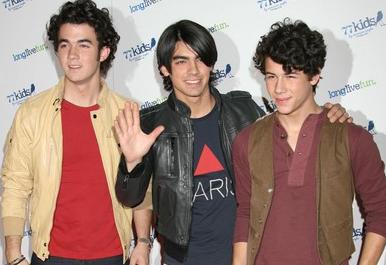 The sibling rockers were nominated in the Best New Artist category along with Adele, Duffy, Lady Antebellum and Jazmine Sullivan.
Artists in contention for the nomination who did not get the nod include Katy Perry and Miley Cyrus.
Speaking to MTV News at the Nokia Theatre in downtown Los Angeles on Wednesday, December 3, shortly after the nominations were announced during a one-hour special concert broadcast live on CBS, Nick Jonas revealed: "When you start in a band as an artist you say, 'One day, I'll be nominated for a Grammy.' It happened, and we're just so honored,"
Kevin Jonas said: "The air just kind of leaves your lungs. It was kind of awesome!"
Nick quipped: "It was kind of a sigh of relief along with immediate excitement. We didn't know what to think!"
The band, fondly referred to as JoBros, is now in league with recent past nominees like Carrie Underwood, John Legend and Alicia Keys.
Comments
comments