Victoria Beckham, who is considered to be one of the most photographed women on the planet, graces the cover of the January 2009 edition of U.S. fashion magazine Harper's Bazaar.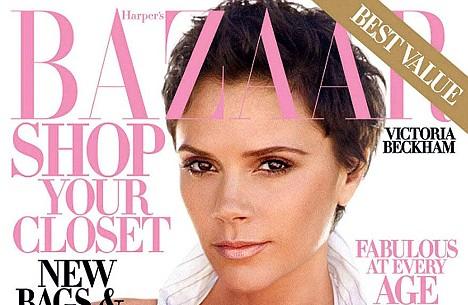 The former Spice Girl appeared to earn a reputation for rarely smiling because she is usually pictured adopting a tight-lipped, steely-eyed pose but something is going to change since Victoria admitted that she's working on her smile.
During an interview with the magazine Harper's Bazaar, the 34-year-old singer revealed: "I have started smiling. I've mastered this smirk; it's a smile that isn't a smile."
Victoria Beckham attributes her 'Blue Steel' look to nerves in front of the world's press, but believes now she's more comfortable being in the public eye her smile will develop naturally.
She explained: "I used to get so nervous, and when I got on the red carpet, I'd freeze up. I've had so many things said about me over the years, like a public bullying."
She added: "The older you get, the more comfortable you become with yourself, and you accept what you have physically. Also, the fact that my [fashion] business is doing very well makes me feel a little more confident, too."
When asked how she maintains her knickers-ready figure and Victoria will admit she is "very disciplined," saying: "It's funny; I go to the gym now. I run four miles a day."
She continued: "I go into hair and makeup, and I turn into 'Victoria Beckham.' I'll try on all my dresses, and I'll pick out a handbag, and I'll put on the shades. I instantly turn into this person, and it sort of feels like a character. And there are so many pictures of it. But it's a true character because it's still me."