The Jonas Bros have nicknames for each other!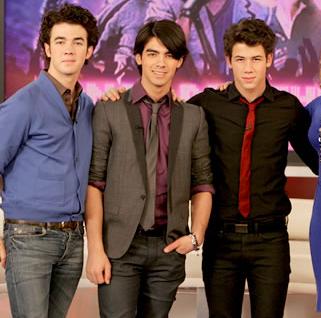 Nick Jonas goes by "Mr. President" — fitting, as he's joked that he's running for the top office in 2038. Kevin's moniker is "K2," and Joe is "Danger," according to the group.
The guys hit up NYC's Times Square Thursday for the unveiling of their wax figures at Madame Tussauds in Times Square.
They'll stay in the city over the weekend to perform on Saturday Night Live.
So who's their sweetheart? Hint: It's not Camilla Belle, Selena Gomez or Danielle Deleasa.
"Mom!" the guys say.
Their feature film, Jonas Brothers: The 3D Concert Experience opens in theaters Feb. 27.
Comments
comments