The Jonas Brothers emphasized their youth with their casual attire at the 22nd Kids' Choice Awards 2009 at UCLA's Pauley Pavilion, Los Angeles, on Saturday, March 28.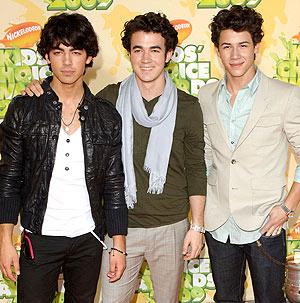 It was a big day for the sibling rockers, who performed their hit songs S.O.S. and Burnin' Up at the event, sending their female fans into raptures, and were named Favorite Music Group.
The teenage idols rocked, not just with their music but also style. Nick Jonas, looking as tall as his brother Kevin, was attired in a nude buttoned up jacket atop a pistachio green dress shirt worn outside his blue jeans and white shoes.
Joe decided to match his otherwise straight hair with the other two brothers' curls. His tousled hair covered his forehead. He wore a black leather motorcycle jacket atop an ivory V neckline Tee, black slim jeans and trendy black and white PT shoes.
Kevin looked his graceful self in an olive sweater, beige pants, a grey scarf wrapped around his neck and white sports shoes.
The musicians, who interact frequently with their fans through their MySpace blog, thanked their fans for voting for them within minutes of winning the blimp.
"Thank you for voting so much and giving us the Best Group Award (BLIMP) at the 2009 Kids Choice Awards. You are so awesome and mean so much to us. Thank you..," they wrote.
Comments
comments