The Jonas Brothers were mobbed by fans as they stepped out of their hotel in Toronto on Monday, June 30.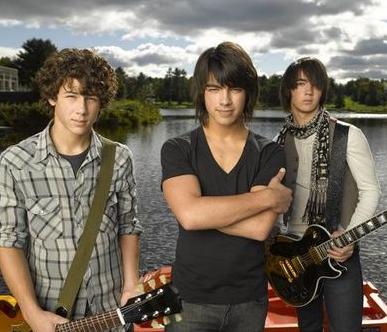 The sibling rockers are set to kick off the Burning Up Tour at Molson Amphitheatre in Toronto, Ontario, on July 4th 2008. The North American tour is aimed at promoting their third studio album, A Little Bit Longer, which is set to be released in the United States on August 12, 2008.
A Disney Digital 3D production crew will film the shows in Anaheim, CA on July 13 and 14, for a movie that will be released in theaters early next year.
The Disney Channel movie, Camp Rock, featuring the Jonas Brothers, which aired on "The Disney Channel" June 20, averaged 8.9 million viewers, doing better than High School Musical which debuted to 7.8 million viewers, but falling short of High School Musical 2 which was watched by 17.2 million viewers.
A sequel to Camp Rock will go into production in late spring or summer 2009, according to the Hollywood Reporter.
The brothers are also scheduled to star in a new Disney Channel's series called J.O.N.A.S! (Junior Operatives Networking as Spies). The show will feature them as band members who dovetail as spies, and will include their youngest sibling, seven-year-old Frankie.
Comments
comments