Jonas Brothers, who previously answered 17 questions, and their "Camp Rock" co-stars are featured in a new PSA from Disney Channel. Joe Jonas, Nick Jonas and Kevin Jonas, along with Demi Lovato and Alyson Stoner, wish everyone a Happy Holidays.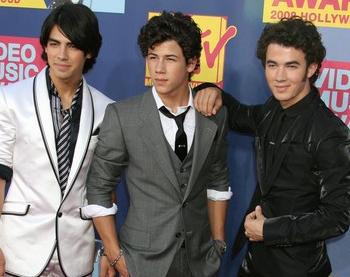 Meanwhile, the Jonas Bros recently revealed their plans for the holidays, insisting they want to spend the days with family and friends. The boys said that they will be spending the holidays at their home, and decorating Christmas tree is their family traditions.
Talking about their favorite holiday dish, Joe and his siblings revealed: "Turkey with the fixings".
As for their favorite holiday movie and song, they said: "'Elf' is our favorite movie and 'Rudolph the Red-Nosed Reindeer' for a song."
Jonas Brothers, who spent last Christmas on their tour in New York City, said "Snow for Christmas" is the best gift for the holidays. But Joe has "a bulldog" on his Christmas list.
In related news, Jonas Brothers give their fans a short sneak peek for their new movie, "Jonas Brothers: The 3D Concert Experience".
On their new flick, Nick Jonas revealed: "The coolest thing about this movie is that it's just not the performances that you see. It's the stuff behind-the-scenes that really stood out to us."
"Jonas Brothers: The 3D Concert Experience" will hit theaters February 2009.
UPDATE: The Jonas Brothers were felicitated at a press event in Mexico City by the House of Records on Sunday afternoon, December 21. The sibling rockers' third studio album, A Little Bit Longer, which was released on June 20, 2008, has received Gold certification (40,000) in Mexico. Album sales in the country have since gone past the 50,000 mark.
On Saturday, the band performed at the 40,000 seat Foro Sol stadium in Mexico City.
The Jonas Brothers will perform Joyful Kings on the Walt Disney World Christmas Day Parade which airs on ABC-TV December 25.
Comments
comments