The Jonas Brothers have given U.S. President Barack Obama's daughters a lifetime pass to their concerts.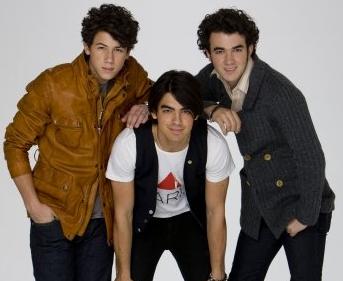 Sasha and Malia Obama are huge fans of the teen pop sensations, who surprised them and their friends with a White House visit in the hours after their father took office in January. And now the Jonases want the girls to know they'll always be welcome at their shows, including one at the Verizon Center in Washington, D.C. on July 13th.
Joe Jonas revealed: "Hopefully, the family will come out and watch the show. They're always invited."
Meanwhile, The Jonas Brothers have been advised to spiritually cleanse the listed Hollywood building that they hope to buy.
Celebrity psychic Kenny Kingston said that the former house of Marion Davis was haunted by both "good and bad" spirits, and that it should be blessed before the singing trio move in.
Kingston revealed that the Hollywood Hills property has a history of high-profile affairs, illegitimate children, outrageous parties and a mysterious fire which almost destroyed the building 20 years ago.
Kingston, who held a seance after learning that the Jonas Brothers had put in an offer for the property, said: "I've visited that home and it's frequented by spirits, good and bad.
"My spirits tell me the house has a history of bad health and, therefore, the Jonas boys will need to guard their health in this house. The place should be blessed before the brothers move in."
Kingston said he fears he was given a devastating vision of the mansion's future, explaining: "While we were speaking with the spirits on Tuesday, we could smell smoke.
"This could just be a reminder that the house was the scene of a fire, but it's more likely an omen of something that is to happen in the future," he warned.
Comments
comments