The Jonas Brothers, proud and respectful of their rapidly growing fan base, have scheduled a live video chat with their fan family on Sunday, January 18.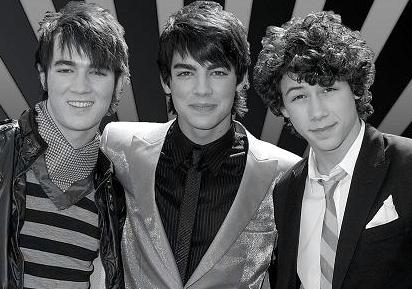 In a post on their blog the young celebrities wrote:
"Hey everyone! We had so much fun with our first FANFAMILY EXPERIENCE. We spent almost 5 hours commenting to all of our fans. It was awesome! OUR NEXT FANFAMILY EXPERIENCE is going to be THIS SUNDAY!!!! SUNDAY, JANUARY 18TH at 5 PM EST (EASTERN STANDARD TIME) JOIN US FOR OUR FIRST LIVE VIDEO CHAT IN ALMOST A YEAR AND A HALF!!! Just go to: http://www.Justin.tv/JonasBrothers If you desire to join the live video chat, you will need to create an account and login in order to join the chat. Then just be ready to ask us questions and spend time with us. Once again, we will be looking for ways throughout 2009 to connect with our fans more. Thanks for helping us live our dream!" JB Kevin, Joe and Nick
Meanwhile, The Jonas Brothers have reportedly increased security after an unidentified group of fans began running off with their underwear.
During the band's recent tour, the trio reportedly began noticing pairs of boxer shorts disappearing from their dressing rooms and initially passed it off as a gag.
But when notes began to turn up in the guys' garment bags proclaiming: "Your undies are safe with us… The Undie Snatchers!" the brothers are said to have hired more security staff to keep their possessions safe.
According to a report, all guests including crew, press and friends, must now be escorted to the Jonas' dressing rooms backstage.
Comments
comments