Jonas Brothers say the song Poison Ivy, which features on their new album – Lines, Vines and Trying Times – and explores toxic relationships, isn't about any of their exes.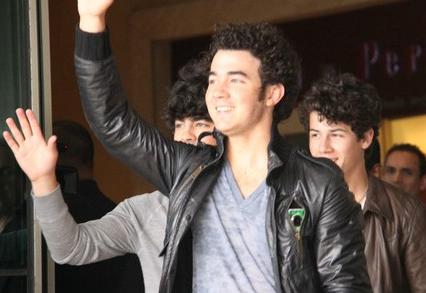 Nick Jonas is reported to have dated Miley Cyrus and Selena Gomez, while Joe Jonas has dated Taylor Swift. Miley and Taylor have both referred to their failed relationships in their songs.
"It's a song about how something may not be too good for you, but you keep going back to it because you can't resist the urge, the itch, to go back to the person," Nick Jonas, 16, told People. "I think that's something people can relate to."
"Sometimes when we write songs, it's not something we've been through," Nick added.
"It's something that we've seen someone else go through and we say, 'Why don't we write a song about that?' "
The rocker siblings were speaking to People at the El Rey Theatre in L.A. on Saturday, May 16, where they performed a 30-minute set for 600 Wal-Mart contest winners.
The Jonas brothers are currently on the South American leg of their world tour with friend and Camp Rock co-star Demi Lovato. They performed in Lima, Peru on May 18 and May 19, and will perform at Santiago, Chile tonight.
Meanwhile, The Jonas Brothers crouch down to pose with some of their Peruvian fans on Tuesday afternoon (May 19) in Lima.
Nick, Kevin and Joe tweeted, saying: "We got to meet some of our amazing fans in Peru today! Thanks for all your love guys! Can't wait for tonight's show!!!! -JB."
The JoBros just announced additional Europe Tour Dates:
November 3 – Italy – Milan Forum
November 4 – Italy – Pesaro Adriatic Arena
November 6 – Italy – Turin Pala Olimpico
November 7 – Switzerland – Zurich Hallenstadion
November 13 – Netherlands – Rotterdam Ahoy
November 14 – Belgium – Antwerp Sportpalais
November 24 – Ireland – Dublin O2 Arena
Comments
comments