Kevin Jonas, who is the oldest of the trio, revealed, "We see ourselves as a poprock group."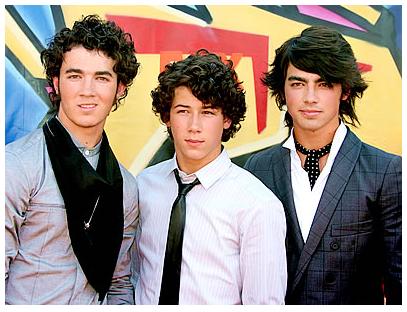 The 20-year-old member of the group revealed, "We don't do dance routines. We try to rock out. People classify us as a boy band because they see the reaction of the girls when we play live. But, hey, that can't be a bad thing. On stage, we're all having a blast."
He continued, "When we started making records, we looked to groups such as 'Nsnyc and the Backstreet Boys for inspiration. But we have far more in common with the Bee Gees. I love their harmonies and the way they reinvented themselves. We met Barry Gibb and he has become a friend of the family. He told us to take things slowly and enjoy ourselves."
He added, "We want to be an energetic band and have fun playing loud guitars, but you don't have to be an angry teenager to do that. We play the music we love and write the songs we want to write. There would be no point in us trying to be something that we're not.' In steering well clear of the temptations that traditionally derail so many young bands, the Jonas Brothers also believe in rock 'n' roll without the sex and drugs."
The Jonas Brothers, who are not known for their wild parties or any post-gig visits to dubious nightclubs, also wear purity rings. The rings signify their desire to stay celibate until they get married.
However, Kevin Jonas insisted, "The rings are a constant reminder to live a life with values. For me, it's a personal thing. I'm not going to comment on the way other people live their lives. That's up to them. 'Chastity is an interesting term. Wearing these rings is a private decision that we made. It's a constant reminder. You put a string around your finger to remember to wash your car or take your dog for a walk."
They even found time to write an album's worth of material for wannabe teenage rock chick Demi Lovato, their co-star in Camp Rock.
Kevin Jonas said, "We love to work. Instead of going out after our gigs on the last tour, we spent a lot of time writing with Demi. As soon as the tour was over, we went into the studio with her."
In keeping with one of the golden rules of being in a boy band, the Jonas Brothers also insist that all three of them are single.
The group's youngest member, 16-year-old Nick, has been romantically linked to Disney starlets Miley Cyrus and Jordan Pruitt, but insisted that the girls are just friends. He said, "None of us have girlfriends, but we would want a girl we dated to be a fan,' says the mop-haired singer and guitarist."
Joe Jonas revealed, "There isn't really any sibling rivalry. We don't really fight at all. It's so funny for us when people say: "I can't stand my brother, we fight all the time. We get along. We are best friends. We like to hang out.'"
The band began as a solo project for Nick, who signed a record deal after becoming a Broadway actor at the age of seven. Once he had written some songs with Kevin and keyboardist Joe, however, it was obvious that a three-piece group offered the most promising route forward, a move actively encouraged by the band's original label, Columbia.
Nick Jonas continued, "I was discovered in a hair salon. I'd gone there with my mom and someone heard me singing and put me in touch with a manager who sent me to Broadway. I made a solo record, but then my brothers and I wrote some songs together and we took it from there.'"
After recording a debut album, It's About Time, that aped the punky-pop of former British chart heroes Busted, the band signed to the Disney-affiliated Hollywood Records in 2007 after surprisingly being dropped by Columbia.
Their lives since that point have been a whirlwind, with guest slots on Disney's The Hannah Montana Show, their own reality TV show called Living The Dream and now Camp Rock.
In between the constant touring and the TV work, they have found time to record a third album, A Little Bit Longer, that they hope will see a British release by the end of the year. In time-honoured fashion, they believe this forthcoming record will stretch their appeal beyond the younger end of the teen market and ensure their pop success is not fleeting.
If it lives up to Nick's promise that it will combine the funky musicianship of Prince with the lyrics of Johnny Cash, it should be quite a release.
Kevin Jonas added, "I don't think our next record will necessarily sound more mature. But we've grown up and learned a lot from being on the road."
We like to keep it all moving by working hard. We might be old souls in young bodies, but we enjoy what we do. That's for sure.'
The Jonas Brothers' self-titled album is out on Hollywood Records.
Comments
comments