First-time Grammy nominees the Jonas Brothers say they are each a bundle of nerves about Sunday's big show – but are concentrating on singing, not winning.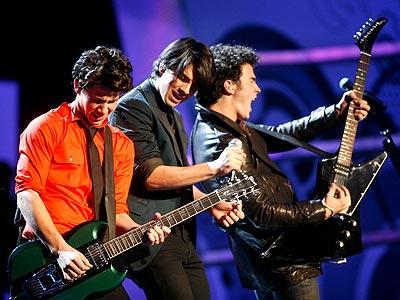 Kevin Jonas, 21, revealed: "I'm beyond nervous. I'm not even going to hide it at all. We're going to focus on the performance. That's what we do best and that's what we'll put our minds on."
The brothers, who are nominated for best new artist, spoke during a break from filming their upcoming Disney Channel series, JONAS. They are slated to perform during the Grammy primetime telecast – but are keeping mum about what they'll be singing.
Says 16-year-old Nick Jonas: "I can't give away any secrets but there will be some big surprises."
Going out on a limb, Nick says that while "we would love to win, at the end of the day I think Adele is really amazing. I'd give her record, Chasing Pavements, record of the year."
Adds Nick: "The thing to say is even if we don't win, it's just an honor to be nominated. Of course that's how we feel."
Joe, 19, echoes that sentiment saying: "Just to be in that room, performing on that stage is amazing."
The Grammy Awards air Sunday at 8 P.M. EST on CBS.
Meanwhile, Jonas Brothers were shocked with Grammy nods.
Joe Jonas, 19, revealed: "It was just all so fast. We thought we were going to be late. We rushed to our seats and right away they're like, 'And the New Artist nominees are…' We just can't believe it still, and we're just so thankful. It's amazing."
Kevin Jonas, 21, was equally gleeful. "It's incredible. We are just shocked and blown away, we honestly are. To be recognized among your peers is maybe one of the coolest things in the world. And to be voted on by the Grammy association is incredible and we are just blown away."
As for who the Jonas Brothers are would like to see win, they would like to see Coldplay's "Viva la Vida" win record of the year. "For us, I think we might be pulling for Coldplay," said Nick Jonas, 16. "We got to meet Chris Martin last week at the American Music Awards, and that was unbelievable. Chris Martin, he's like one of our heroes and he just was talking and he's like, 'You guys are the biggest band in the world.' And we're like, 'Uh, no, you are.'"
Comments
comments