The Jonas Brothers are heading back to Camp Rock following the massive success of the Disney TV movie.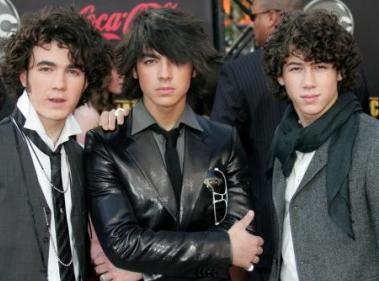 Camp Rock drew an impressive 8.9 million viewers when it aired on Friday, making it Disney's second-watched TV movie ever, after High School Musical 2.
Now the clean-cut siblings and co-star Demi Lovato are being lined up for the sequel, slated to air in late spring or summer 2009, according to the report.
Meanwhile, The Jonas Brothers looked charming and dapper at the premier2 of Disney Channel's made-for-TV musical, Camp Rock on Wednesday, June 11, 2008, in New York City.
The film, which airs on The Disney Channel at 8PM ET/PT on Friday, June 20, centers on a teen girl Mitchie Torres (Demi Lovato), a talented singer who wants to become a pop star.
Mitchie Torres got a chance to attend the prestigious musical camp, Camp Rock but cannot afford the expense. Her mother gets a job as a Camp Rock cook so that Mitchie Torres can attend as long as she helps out in the kitchen between classes.
Mitchie Torres lives a double life hiding that she is the cook's daughter and posing as a well-to-do camper in order to become part of the hottest clique at camp. She discovers how competitive the campers at Camp Rock truly are while working hard to perfect her musical talent.
She gets her break when she is overheard singing by teen pop star and celebrity camp instructor, plus lead singer of Connect Three, Shane Gray (Joe Jonas). However, before she can step into the spotlight she has to overcome her own fears.
Kevin Jonas plays Jason, the lead guitarist of the band, Connect Three, and Nick Jonas plays Nate, the guitarist and vocalist.
Comments
comments