Kate Middleton snuggled up to Prince William as the couple, Prince Harry and a group of friends sheltered under a marquee during a wet polo match.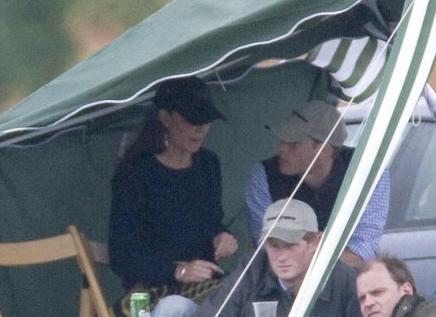 The celebrity pair whispered sweet-nothings into each other's ears and stayed close during summer showers at the game in the Cotswolds.
But getting the canvas contraption to stay up was harder than the group thought and they had previously struggled to pitch it.
At one point 26-year-old Kate Middleton even got down on her hands and knees to examine the source of the problem. But finding no answers, all she could do was giggle.
A bemused Prince Harry abandoned the situation to make a phone call, perhaps asking for outside instruction, but the group eventually manage to hoist it up.
Unfortunately it seemed even Royals and their companions have to suffer at the hands of the unpredictable summer weather Britain is famous for.
Comments
comments