The Jonas Brothers treated fans to a last-minute post-American Music Awards concert in Hollywood on Sunday night, which they booked just the day before.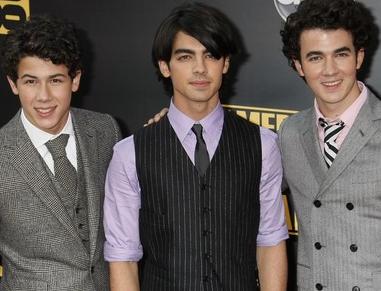 Just hours after the trio claimed the AMA's favorite Breakthrough Artist award in Los Angeles, the Jonases took to the stage at the House of Blues on Sunset Strip to perform a free three-hour show, packed with guests and celebrities.
According to a report, the Jonas Brothers only promoted the concert on their MySpace profile page and in pre-AMA radio interviews on Saturday, but the fans heard all about it and started lining up outside the venue even before the start of the awards show across town.
The trio performed a string of hits and covered John Mayer's "Gravity," Tom Petty's "Free Fallin'" and Bob Marley's "Waiting in Vain," as well as Kanye West's "Heartless."
Their Camp Rock co-star Demi Lovato joined them onstage to perform Mayer's "Daughters" with her pals and Jordin Sparks was a highlight when she stepped out to perform Stevie Wonder's "Superstition" with the boys.
Jesse McCartney also joined in the fun, as did Blues Brothers star Dan Aykroyd, who teamed up with the brothers for a cover of Bo Diddley's hit "Who Do You Love?"
The impromptu show ended with a version of the Beatles' "Hey Jude," performed by the Jonas Brothers and all their guests.
Comments
comments