Jonas Brothers has a lot of being thankful in 2008 because it has been quite a year for them.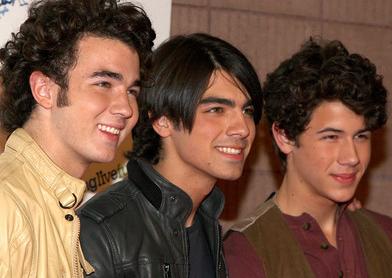 Kevin, Joe and Nick wrote on their MySpace blog on Tuesday: "There are probably not enough words to describe what an amazing year we have lived in 2008. It feels like we were just sitting here writing a blog for the end of 2007. Time has really moved faster than we could have imagined."
Among the more than 20 things they are grateful for this year? They wrote: "The opportunity to be on the Hannah Montana/Miley Cyrus tour."
Other things the Jonas Brothers were proud of included their very first Kids Choice and Teen Choice awards, getting their songs — "When You Look Me in the Eyes," "Burnin' Up" and "LoveBug" — aired on the radio and the success of their national summer tour. They also released two CDs, filmed a 3-D movie and got a book of photos to the top of the New York Times Bestsellers list.
They also wrote: "at the end of the year, we were nominated for a Best New Artist Grammy. We don't even know what to say about this honor. It is a complete shock and thrill all at the same time."
In addition to looking back, the brothers are also looking ahead to their 2009 plans. They wrote that fans can see their new 3-D movie in February and that they will debut their Disney Channel show, JONAS.
They wrote: "We can't wait for you to see [JONAS]. We have been working hard on this since September."
They also announced that they will launch their first-ever Jonas Brothers world tour as they added: "This has been one of the best years of our lives. None of this would have been possible without you. You are the best fans in the world. Thanks for allowing us to live our dreams."
Comments
comments