The Jonas Brothers were left thrilled after meeting their idol Britney Spears.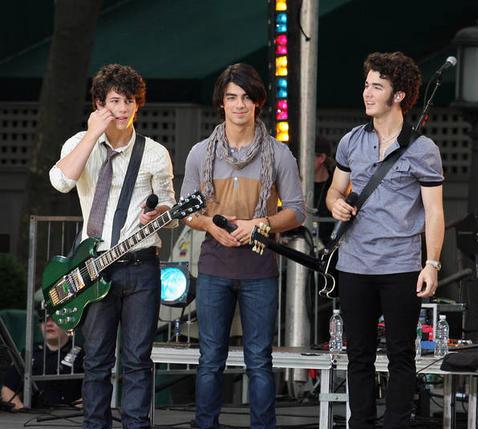 The Christian band were desperate to be introduced to the "Gimme More" singer at the MTV Video Music Awards in Los Angeles on Sunday night. They were stunned after their dream actually came true.
Before the ceremony, Kevin Jonas revealed: "We really hope we get to meet her. That would be an honor."
Joe Jonas revealed he has been a huge Britney fan for years, adding: "Britney [Spears] was the first CD I ever bought, so it would be cool to see her."
A backstage source said: "They all looked so excited to see Britney and meet her, and she was thrilled too. She seemed to be reminiscing about her own start in the music industry – she began as a Christian singer, just as the Jonas Brothers are doing."
The brothers' attendance at the ceremony comes ahead of the European premiere of their new Disney Channel movie "Camp Rock" at London's Royal Festival Hall on Wednesday.
The film tells the story of a talented teenager, played by Demi Lovato, who goes to a music camp to realize her full potential.
Fans will be able to get up close and personal with the band, as they walk the red carpet with co-star Demi and celebrities including singer-and-actor Jason Donovan, teenage reality TV star George Sampson and model Caprice.
The film is already proving it has what it takes to become as successful as the Disney Channel's previously successful franchise "High School Musical."
"Camp Rock" attracted a staggering 24.5 million viewers when it premiered on U.S. TV on June 20 – making it the second highest viewed Disney Channel Original Movie of all time after "High School Musical 2."
Comments
comments