The Jonas Brothers joined Laura Bush in Dallas Sunday to celebrate a program that helps city youth connect to nature, according to the National Park Foundation.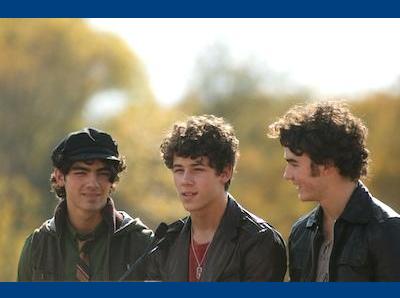 First Lady Laura Bush joined Kevin, Joe and Nick Jonas at the Trinity River Audubon Center Sunday, November 2, to commemorate another year of First Bloom, a youth program run by the National Park.
The First Lady is the foundation's honorary chairwoman.
Joining 150 students from the Boys and Girls Club of Greater Dallas and Williams Preparatory School for a special event at the Trinity River Audubon Center, Laura Bush and the popular brothers boys band took part in hands-on activities aimed at helping young people from urban communities connect to the outdoors and develop a commitment to conservation.
The day's First Bloom activities included a hike in the Great Trinity Forest.
Vin Cipolla, the foundation's president and chief executive officer, said his organization was "thrilled" to have Bush and the Jonas Brothers on hand to help celebrate First Bloom's one-year anniversary.
The foundation president revealed in a statement: "With the creation of our national parks, American citizens first displayed a deep commitment to conservation of our land and preservation of our history that has continued for more than a century. Through First Bloom the National Park Foundation is helping young people develop the sense of pride, ownership and responsibility that they will need to become the caretakers of this important legacy."
Meanwhile, The Jonas Brothers recently recorded a public service announcement encouraging kids to explore national parks.