Sarah Jessica Parker has left no doubt as to who she will be voting for in the US election on Tuesday, not there was much.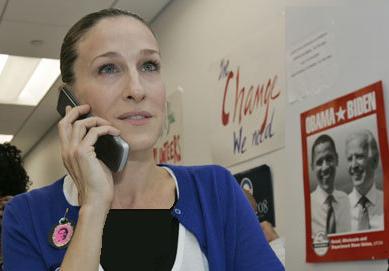 The "Sex And The City" actress, who donned a red, white and blue, an Obama pin and a "Change" shirt, joined other volunteers in making calls to undecided voters at the phone bank at the Obama NYC Headquarters Thursday, Oct. 30, 2008 in New York.
The actress has revealed that her son James Wilkie is a fan of Democratic presidential candidate Barack Obama.
Meanwhile, Sarah Jessica Parker and Hugh Grant have been tapped to co-star as an estranged couple in a new romantic comedy.
The celebrity pair will reportedly play a high-powered New York couple placed in the witness-protection program in a small mid-western town in the upcoming untitled film.
Both Hollywood stars are reportedly in negotiations with Columbia Pictures for the project, penned by Marc Lawrence.
Production is scheduled to begin next March (09).
Comments
comments