Jude Law is terrified intimate pictures taken by his ex-lover will be made public.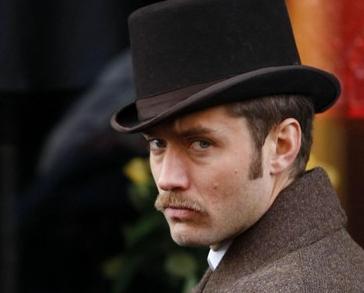 The 'Sherlock Holmes' star posed for a series of photos for Samantha Burke – who is expecting his fourth child – during their brief relationship and has reportedly told former wife Sadie Frost he is concerned she will leak them after relations became strained following her announcement she is pregnant.
A source told Britain's The Sun newspaper: "After Jude confessed to Sadie and their children that there was to be an addition to the Law family, he pulled Sadie aside to explain more of his fears.
"He believes there are pictures taken by Samantha which could cause him embarrassment.
"Samantha was totally smitten with Jude and enjoyed photographing him hugely. It was a passionate fling and there was a real animal attraction.
"He's been ashen with anxiety, especially because he's putting his loved ones through more stress."
Samantha appeared in public yesterday (31.08.09) for the first time since it was revealed she was expecting Jude's baby, a girl, and admitted she was struggling.
The 24-year-old model – who appeared nervous as her solicitor read out a statement saying Jude was being "supportive" – said: "It's a hard time."
Meanwhile, Samantha's mother Lea Burke revealed her daughter was "terrified" at telling 36-year-old Jude – who already has 12-year-old Rafferty, Iris, eight, and Rudy, six, with Sadie – he was to be a father again and claims hasn't spoken to the brunette beauty.
Lea said: "Samantha has no idea what is going on. She is very stressed out and upset. This was never planned and Jude didn't want the baby. It was a total accident.
"But Samantha is staying positive and hoping Jude will get in touch. She really wanted to get hold of him, but he hasn't called once. At the moment, they have some sort of agreement in place – I guess his lawyer is probably telling him not to contact her.
"But it is hard to understand why he wouldn't just pick up the phone and see how she is doing. It is all a complete mess, to be honest."
However, friends of the actor insist he wants to be a part of his new daughter's life.
One friend told Britain's Daily Mirror newspaper: "Jude has had limited contacted with Samantha, but through no fault of his own. He knew nothing of the pregnancy so, given he assumed their relationship was over, had no reason to get in touch. But since finding out he's going to be a father again, Jude has been fully supportive, both financially and emotionally.
"He wants to be a part of the child's life and naturally this means he wants to be on good terms with Samantha."
Comments
comments