Justin Timberlake will perform a surprise set at the London Live Earth show.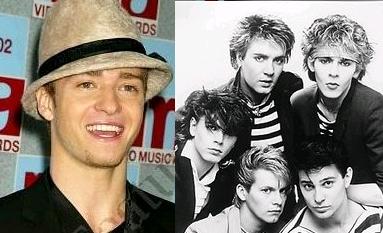 The pop singer and Timbaland are set to join Duran Duran on stage at the new Wembley Stadium for the spectacular concert on July 7.
The "Sexyback" singer is a big fan of the 80s pop band and reportedly jumped at the chance to perform with them.
A source revealed, "Justin and Timberland have been rehearsing. They have something special up their sleeve for fans at Wembley. They are juggling their schedules to make it happen."
The 26-year-old star will make his surprise appearance hours before performing at London's The O2 arena, the latest show on his 'FutureSex/LoveShow' tour.
Meanwhile, the full line-up for Live Earth London – one of a series of global concerts being held to highlight the dangers of global warming – has been unveiled.
Highlights include Madonna closing the event with hit 'Hung Up', the Beastie Boys blasting out 'Sabotage', Metallica and Red Hot Chili Peppers, both introduced by US comedian Chris Rock, and Keith Urban and Alicia Keys teaming up to perform Rolling Stones classic 'Gimme Shelter'.
Comments
comments