Jennifer Aniston and Owen Wilson has sparked some rumors that upcoming film "Marley & Me".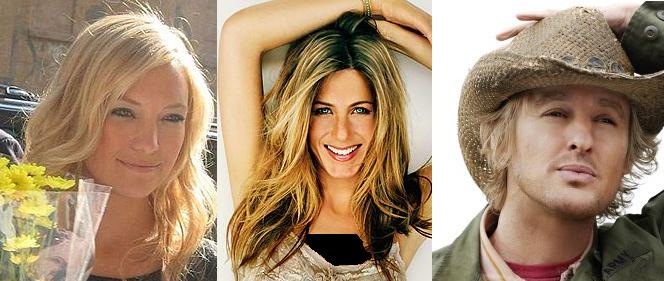 An insider revealed, "When Kate heard that Owen was going to work with Jen, she wasn't worried, because she thought Jen was older and not Owen's type. Besides, Jen used to date Vince Vaughn, and Kate knows that Owen is Vince's good friend and that Vince still cares for her. But once Owen started raving to Kate about Jen, saying how cool and pretty she is and how much he liked working with her, Kate got worried."
Even though Jennifer has recently been linked to Brian Bouma, a crewmember on her last movie, "Traveling", Kate has cause for concern. Eyewitnesses in Miami say that Owen and Jen are growing closer as they play an on-screen husband and wife.
The insider added, "They're laughing all the time and always touching and hugging, even when the cameras aren't rolling. Their connection is amazing! He arrives and leaves when no one is around. They seem to be trying not to be seen together."
Kate Hudson was in Miami earlier in the month but left for New York with son Ryder to see her former hubby Chris Robinson. But word soon drifted back about Owen and Jen's hot connection — and Kate quickly returned to Florida. She flew in on Saturday, March 15, says a source, and spent the night with Owen on Star Island. Later that weekend, the couple was spotted at a private classical concert at the Lincoln Theater in Miami Beach.
The eyewitness revealed, "They looked adorable together. At one point, Owen put his hand on Kate's leg. She was giggling like a schoolgirl. They didn't seem to hide their affection."
Comments
comments