Kate Hudson, who is still shopping for Christmas presents, admitted that she felt the pressure to cut back on spending during the tough economic times.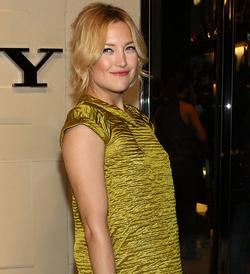 The actress revealed at a Los Angeles press conference for her new film, "Bride Wars": "I think it's a really weird time and I think that everyone is feeling it."
The 29-year-old actress said that her family relies on handmade presents to save money and to keep things more personal, saying: "We've always been pretty crafty anyway. We all knit. The girls knit. This year I'm doing these great big knit…well, actually I shouldn't even talk about it because I can't say it!"
Kate Hudson will spend the holidays on the slopes in Colorado, with son Ryder, 4, in tow. Ryder started skiing last year and quickly graduated from the bunny hill.
On his first day of lessons (at the same ski school Hudson attended as a child), the actress showed up at the bunny slope to ski with Ryder and let him show her his new skills but Ryder was nowhere to be found.
The actress shared: "I started panicking a little bit because I couldn't see him anywhere. And the [instructor] came over and said, 'Oh, actually, he's up on the mountain.'"
She continued: "I'm standing there in my skis and I'm looking up and all of a sudden I see this little kid in camouflage and I'm like, 'No!'"
She added: "He is just zooming down the mountain and I started to cry."
It was just a wave of nostalgia though, she says, she wasn't worried… yet as she explained: "I grew up skiing, and then you see your kids ski and there's a freedom in it, a freedom in that that you recognize in them and a confidence that kids start to get when they do things like that. It was a big little moment."
She also added: "Now he's going to be terror. So the helmet is on. I'm going to put like those rubber things on the bottom of his skis so that he doesn't go too fast."
Comments
comments