Kate Middleton and Chelsy Davy, who were sharing a laugh while Prince William and Prince Harry played ferociously in the lively game.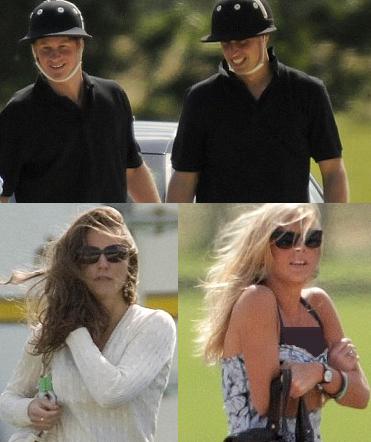 The royal pair threw caution to the wind and proved themselves to be their boyfriends' biggest fans. She faces the gales on the polo field to watch them play today.
Laughing together as the unpredictable British weather whipped around them, the two girls looked happy and relaxed on the Gloucestershire green.
Cheering on Prince William and Prince Harry as they competed in their favorite sport, they were a lively audience, chatting but keeping their eye on the game.
At one climatic point Kate, 26, even raised her arms in the air – presumably to celebrate a sporting triumph of William's – before getting back to a good old gossip with 22-year-old Chelsy.
Both wearing skinny jeans, which was the close-fitting fashion of the moment, they two looked well groomed and healthy, despite the relentless wind.
Decked out in full polo-playing regalia, the Princes were involved in the match at Beaufort Polo Club to raise funds for the Tusk Charity.
The UK-based cause, which promotes the conservation of wildlife and education across Africa, is sure to receive a sizeable donation after the lively match.
And even though they celebrated Prince William's 26th birthday the night before the celebrity pair showed no signs of being worse for wear.
Comments
comments