Tanned and elegant, she looks every inch the princess in waiting. Which is perhaps the impression Kate Middleton wants to create in the wake of the revelations that her uncle is a drug dealer.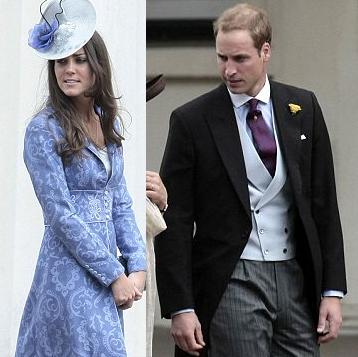 In her first public outing since the scandal broke, she accompanied boyfriend Prince William and his brother Harry to the wedding of their close friend Nicholas van Cutsem yesterday.
Her blue brocade coat and off-white dress was teamed with navy heels, a yellow topaz cocktail ring and white hat.
Miss Middleton has just returned from the Caribbean island of Mustique where the family fled to escape the scandal over her mother Carole's brother.
Last month it was revealed that Gary Goldsmith had invited undercover reporters to his £5million villa – called La Maison de Bang Bang – in Ibiza where he chopped up lines of cocaine and boasted about his associations with the Royal Family.
William and Miss Middleton had stayed there in 2006, and Mr Goldsmith, 44, had been warned about his behaviour a year ago.
Her holiday has given her a flattering tan, but onlookers at the wedding in the Guards Chapel at London's Wellington Barracks said she had lost a lot of weight.
One said: 'Kate has always been slim but now looks very thin. She's had a rough time and although she was dressed as elegantly as ever, she did look a little gaunt.'
Princes William and Harry were ushers at the wedding of Captain van Cutsem and Alice Hadden-Paton, an events organizer.
The 31-year-old groom is a life guard in the Household Cavalry, while his new wife Alice, 25, works as an events manager.
Her brother Harry Hadden-Paton has made a name for himself as a West End actor.
The wedding of Nicholas and Alice is thought to have caught William off guard. But despite rumours of an impending engagement to Kate, sources say the Prince is too busy to get married.
He is training to become an RAF search and rescue pilot, and has tours of Australia and South Africa planned. It may not be until Kate and William turn 30 that they tie the knot. They are both 27.
Kate had been keeping a low profile since the wedding today, after the storm of her drug-taking uncle Gary Goldsmith.
She took William to her uncle's £5million villa in Ibiza where he chopped up lines of cocaine and boasted about his links to the Royal Family.
Kate's mother Carole Middleton held crisis talks in a bid to protect her family's reputation.
A source close to the Middletons said Carole was fed up with the damaging stories about her daughter and family.
'She is convinced that William and Kate will tie the knot and she doesn't want anything tarnishing her daughter's reputation,' the source said.
Comments
comments