While Prince William is hard at work training as a search-and-rescue pilot, girlfriend Kate Middleton has swapped glitzy nightclubs for more low-key watering holes.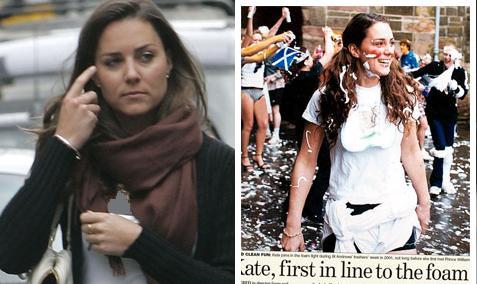 Regulars at the Fat Badger pub in London's Notting Hill say the 27-year-old beauty and sister Pippa are regular customers. Friends report it's all part of a plan to keep a low profile
"[Prince] William has told Kate they will avoid the dreaded engagement rumors if they aren't photographed," says a chum. "Kate hasn't been out clubbing for months."
Meanwhile, British newspaper The Mail on Sunday has published a never before seen photo of Kate Middleton.
The photo, taken in 2001, shows Kate dressed in clown makeup and taking part in a foam fight to mark the end of freshman week at St Andrews university.
According to a report, it is one of a very small number of pictures that have been published showing Miss Middleton during her time at university.
In her early student days, Royal protocol would have been the last thing on Kate's mind – but just weeks after this picture was taken she met Prince William and her carefree life would change for ever.
The photo lay undiscovered in a photographer's collection until last week.
Comments
comments